Over spring and summer this year, educators worldwide developed innovative ways to transform their science courses into remote or hybrid formats. Chief among these was using video to address unique remote learning difficulties: e.g., diversifying teaching materials in order to make remote instruction more engaging, teaching research protocols virtually, and improving concept comprehension when in-person lab demonstrations are impossible.
As remote instruction continues into the fall semester, we've brought together some tips from instructors who have successfully integrated JoVE science videos into their courses:
1. Create a Quiz — or Use JoVE's Test Feature
Several instructors note that having students complete a short quiz after watching the videos not only ensures that they're paying attention but can also be used to encourage them to think critically and deeply about the material. For instance: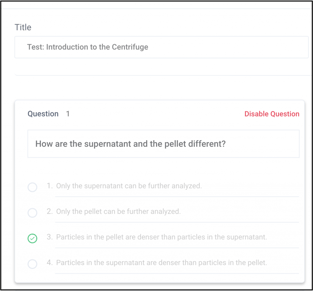 — Dr. Kathryn Allen asked questions that required students to directly apply concepts presented in this JoVE video, with questions such as "Given a mixture of chloride ion and phosphate ion, suggest how you might separate the two ions using solubility rules using any nitrate salt. Use a Ksp table to help you analyze this problem."
— Dr. Johnny El-Rady asked students to write down two things that surprised them, three things they learned, and one question they still had after watching the videos.
— In his organic chemistry course, Dr. Peter Dinér asked students to create flow charts of the procedures demonstrated in the videos.
For questions focused on methods and principles presented in the video, JoVE's quiz feature is a convenient alternative: each video in the JoVE Science Education collection comes with associated test questions created by JoVE's on-staff Ph.D.'s.
2. Embed Videos Into Your LMS (Learning Management System)
By embedding her selected JoVE videos into Moodle, Hila Failayev — a teaching assistant for a biochemistry course — was able to create interactive tutorials for her students. "The wonderful JoVE team helped me to integrate the videos into Moodle-integrated H5P interactive course presentations," she explained. Within each presentation, Hila and her team included fill-in-the-blank type questions about the videos, for students to complete as they worked their way through the presentation.
While JoVE videos can also be shared via links, embedding videos into LMSs has been the preferred choice for many instructors — it has allowed students to conveniently access questions, assignments, readings, videos and other teaching material all in one place. LMSs like Blackboard also provide instructors with data on engagement, so they can see which videos students have viewed most frequently or found most helpful.
3. Have Videos Mapped to Your Syllabus by Our On-Staff Ph.D.'s
Need a quick and easy way to find high-quality, scientifically-reviewed videos that support the topics covered by your course? Our Customer Success team can create a customized playlist of JoVE videos mapped to your syllabus. "It took me 10 minutes to browse the videos and make sure it worked for what I wanted," said Dr. Meghan Porter, who requested syllabus maps for her introductory chemistry course and upper-level organic chemistry lab course.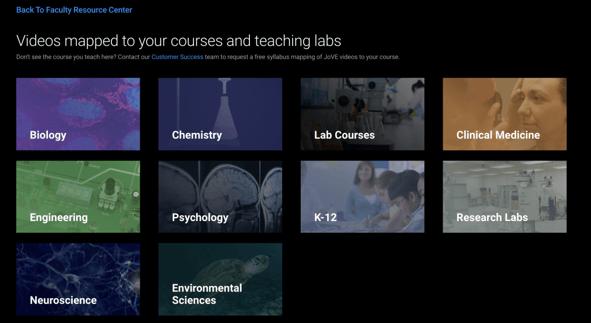 JoVE videos mapped to syllabi for different courses and training programs.
The JoVE playlist feature also allows you to create your very own playlists of your selected JoVE videos, for a lesson, a course, or even a lab training module. Then share your course playlists with your students with just two clicks! Pro tip: Use the 'add label' option on playlists to include questions or detailed notes about specific videos in different sections of your playlist, and create a fun and engaging class assignment.
4. Turn On Translated Subtitles
Does your remote course include students who might benefit from access to videos with subtitles? If so, remember to turn on closed captions on JoVE videos, or make note of the feature when you share them with your class — several JoVE videos are available with subtitles in English as well as many other languages, making them accessible to a diverse group of viewers.
For instance, Dr. Abraham Chemtob and Dr. Jean-Michel Becht selected French subtitles for the organic chemistry JoVE videos they assigned in their course. "The videos are in English, but the subtitles and the transcription of the soundtrack nevertheless ensure a good level of understanding even for undergraduate students," they said.
5. Assign Video Articles in Upper-Level Science Courses
In upper-level or research courses, direct engagement with peer-reviewed scientific literature is often a significant component of regular coursework. However, published experimental methods are often complex, or use unfamiliar equipment. Consequently, they may be confusing and difficult to visualize for students — especially in remote classrooms, where lab demonstrations of basic techniques are impossible, and students lack the chance to see what the equipment looks like.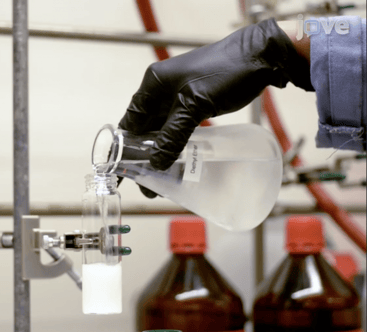 Assigning video articles to students helps address these problems: research is presented in the form of text protocols, as well as videos capturing details of the set-up and results. For her 300-level polymers course, Dr. Kathryn Allen assigned a video article from JoVE Journal and recorded a pre-lab lecture explaining the concept of ring-opening metathesis polymerization (ROMP), which was central to the research article. For her master's-level and medical students, Dr. Marsha Pierce also coupled scientific research papers with JoVE videos showing the techniques that they described.
6. Request a recording of JoVE's remote learning webinar series
This year, we hosted a webinar series designed to support STEM faculty and librarians facing remote and hybrid instruction challenges. In three sessions, STEM professors Dawn Bazely, Nir Ohad and Peter Ronai, and librarian Liz Grace, spoke about how they adapted to various demands of remote learning, offering recommendations and best-practice suggestions for instructors or librarians facing similar challenges. Click here to request a free video recording of the webinars.