JoVE in Action is a series of blog posts highlighting how STEM educators around the world have used JoVE to support their remote teaching efforts. We hope these stories will be useful for instructors looking for effective ways to deliver their science and lab courses online or in hybrid formats.
Dr. Alexandra Taraboletti is an Assistant Professor of Chemistry at the University of the District of Columbia, College of Arts and Sciences. She has been using JoVE for research since she was a graduate student, referring to JoVE Journal for videos of advanced scientific protocols. When she became an educator last year, she also began using JoVE as an instructional tool in her Biochemistry I course, and her Biochemistry I and Organic Chemistry I laboratory classes.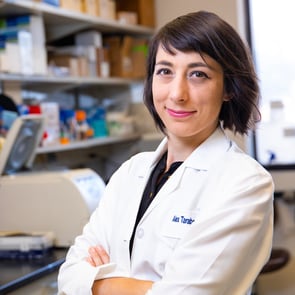 "I turned to JoVE as it was one of the few resources that had advanced content showing Biochemistry lab procedures," said Dr. Taraboletti. "JoVE also had prebuilt quizzes I could pair with their content for instructional supplementation."
For her biochemistry courses, Dr. Taraboletti used a customized playlist of JoVE videos, mapped to her syllabus by a JoVE Curriculum Specialist. She had students watch selected videos outside of class (asynchronously), and paired the videos with lab report assignments. These assignments focused on data analysis, but also included questions about different types of errors that might occur during the course of the experiments. The following are examples of some questions created by Dr. Taraboletti to accompany JoVE videos:
Buffer Lab: For this lab, what is the point of adding NaOH to monosodium phosphate? What is another way to make this buffer (with any other chemicals)? How does the color of neutral red change from low pH to high pH?
Macromolecule Lab: Are these methods precisely able to quantify the macromolecules? How could you modify this procedure, using the same indicator dye, to quantify the amount of a macromolecule?
Dr. Taraboletti notes that the students enjoyed using the JoVE videos and felt that the videos did a good job at explaining complex ideas simply. They also helped improve student performance on lab assignments. "When students had a JoVE video to reference, the quality of their reports improved," she said. "In the few cases we performed virtual labs that did not have paired content on JoVE, students would even ask for a JoVE video to reference."
For other instructors teaching remote or hybrid laboratory courses, Dr. Taraboletti explains that JoVE can be a helpful resource. "In the many instances, such as mine, where students are not able to get any hands-on lab experience, JoVE offers educational flexibility by allowing students the visual component of laboratory learning," she said.
"I found that by pairing JoVE videos with discussions and assignments, students could still map out experiments and understand how they really work."
Teaching a biology or biochemistry course? Request a free trial of JoVE Core: Molecular Biology, a new JoVE video textbook with engaging animated lessons and videos of real experiments.