JoVE in Action is a series of blog posts highlighting how STEM educators around the world have used JoVE to support their remote teaching efforts. We hope these stories will be useful for instructors looking for effective ways to deliver their science and lab courses online or in hybrid formats.
---
Dr. Richard Jarman is a Professor of Chemistry at the College of DuPage, a community college in DuPage County, IL. During the remote learning transition, he was faced with the task of transforming his summer general chemistry course, including its hands-on lab section, into an entirely virtual format. Finding suitable resources for this second-semester general chemistry course, however, proved to be a challenge.
"We determined that lab kits were not appropriate for this level of course, as well as being extremely expensive relative to alternative approaches," explained Dr. Jarman. Online lab simulation exercises did not meet course needs either. "It was quickly apparent that the available simulations do not offer a sufficient coverage of all the topics required in general chemistry," he noted.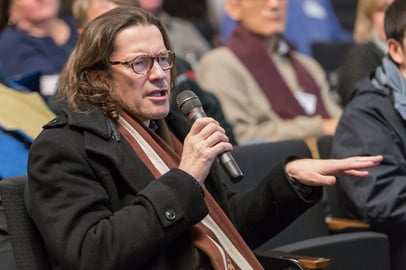 Dr. Richard Jarman
Using video to support virtual labs and lectures
Having heard about JoVE from the science reference librarian at his institution, he decided to augment the virtual lab experience using JoVE chemistry videos. He paired a number of virtual lab activities (e.g., ChemCollective lab simulations) with explanatory videos from JoVE Science Education or JoVE Lab Manual, to help acquaint students with important concepts underlying each experiment. Dr. Jarman notes that these videos served as a great introduction to lab simulations that otherwise offered little in terms of background information.
In some instances, he also had students write lab reports based solely on the selected JoVE video. "For one of the videos that very closely matched an experiment we would have done in lab, I had the students watch the video and then write a lab report based on the video incorporating introduction, experimental method and results section, as if they had done the experiment themselves," he said. "This provided much needed practice in report writing, which is hard to do with a lot of these simulations."
In addition, Dr. Jarman noted a finding about the quality of these reports, compared to those submitted in earlier, on-campus iterations of the same course: "I also found that the lab reports produced based on watching the JoVE video were superior to those produced by the students who actually did the experiment," he said.
Dr. Jarman shared the videos with his students via his institution's learning management system, Blackboard. He created a dedicated folder for each experiment, embedding the relevant videos and associated lab activities into it. He also found the JoVE quiz feature to be a convenient way of presenting pre-lab exercises — this feature allows instructors to add their own questions to JoVE Science Education videos, or to use questions created by the JoVE team of on-staff Ph.D.'s.
In using JoVE to support virtual lab exercises, Dr. Jarman discovered that videos could be used to enhance chemistry lectures as well. To this end, he used videos from a JoVE General Chemistry playlist (with videos from JoVE Core: Chemistry), which covered all the topics he was teaching in his course. "The lecture-based videos have a uniform quality, provide excellent coverage of topics, and are of an appropriate length," he said.
Dr. Jarman plans to continue using video to support his chemistry courses — be it on or off-campus. He suggests that by using video, chemistry instructors can improve the overall course experience regardless of the format in which it is delivered. "JoVE can meet needs in both the lecture and virtual (or face-to-face) lab environments," he said. "These videos are great for an online environment where they can enhance online learning; but they can also be used in a conventional class to assist in homework outside of the lecture class."
---