JoVE in Action is a series of blog posts highlighting how STEM educators around the world have used JoVE to support their remote teaching efforts. We hope these stories will be useful for instructors looking for effective ways to deliver their science and lab courses online or in hybrid formats.
---
Last spring, Dr. Johnny El-Rady was chosen to lead a lab group at the University of South Florida as they transitioned to online teaching. An instructor in the Department of Cell Biology, Microbiology and Molecular Biology, Dr. El-Rady has led online classes for 11 years, in addition to numerous in-person courses. From his experience, he knew that online classes need not be any less rigorous than face-to-face instruction. It could be challenging to execute online labs successfully, but there were resources available to support instructors facing this task.
As he and other instructors worked to bring their courses online, Dr. El-Rady heard about JoVE videos from a colleague who had used them to supplement in-person labs. "I looked at one video my colleague suggested and I was hooked," he said. "They're short, they're sweet, they're rigorous, they're the right level." Other faculty members at his institution began to adopt JoVE content to support their remote chemistry, physics, engineering and public health courses, while Dr. El-Rady found JoVE useful for his microbiology lab course and his course on genetics.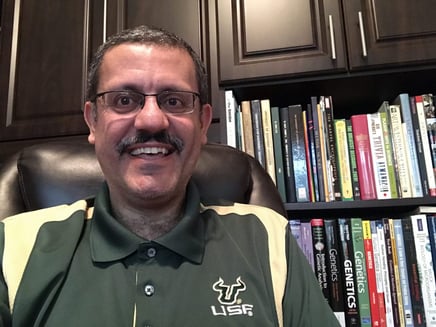 When determining how to best integrate JoVE videos into his courses, Dr. El-Rady requested a syllabus map from the JoVE Customer Success team; he soon received a list of JoVE videos matched to the topics covered by his courses each week. He found the syllabus mapping process to be quick, robust and useful. He then embedded the relevant videos into Canvas, his institution's learning management system, so that students could access them easily. He notes that instructors can also request a Common Cartridge, in order to embed several videos at once.
For his lecture courses, students viewed the assigned videos before class, either for extra credit or for participation credit. For labs, Dr. El-Rady used JoVE in one of two ways. In some cases, they watched videos in class: teaching assistants would begin with a quiz and then offer a 20-30 minute presentation, following which students would watch videos and answer questions about them. In others, the students watched JoVE videos outside of class and completed homework assignments based on them.
For these assignments, he used the quiz questions that accompany each JoVE Science Education video, and also created questions of his own. For example, students were asked to write down two things that surprised them, three things they learned, and one question they had after watching the video.
Dr. El-Rady noted his students' positive response to the videos. "[JoVE has] really been a game changer, frankly, for our courses, and by all indications students have high usage," he said. Because the videos are 5-10 minutes long, they were able to keep students' attention, and analytics suggested that students were using them. Dr. El-Rady also found that students were more likely to view the videos when they had assignments accompanying them.
Another point noted by Dr. El-Rady, based on his own experience of teaching his courses remotely, is that synchronous instruction can help create a sense of normalcy for students, more so than pre-recorded lectures. In his experience, group work has also proved helpful for providing structure to lessons. He notes, however, that this may not necessarily be the case for everyone, and that faculty teaching different subjects may encounter different issues.
Finally, Dr. El-Rady points out that there are resources available online to support instructors facing various teaching challenges; it is likely that others are dealing with similar issues, and someone else might have developed a solution. For him and his colleagues, JoVE has been such a solution. "[JoVE videos] really cover the gamut of what we want in our labs," he said. "We use it every single week. It's not a 100% substitute for face-to-face labs, but it's darn close....It has helped ease our transition to online learning."