As the academic library evolved from providing the internet as a service to providing services through the internet, the role of the librarian has expanded beyond guarding the silence in a room full of books.
Reference librarian Hillary Fox, feels that "for a lot of political and social reasons, librarians are feeling a huge push to justify what we do in academia". But as the original shared academic resources hub, libraries provide a portal to the past, while facilitating access to the tools and training needed to explore and solve problems of the future. Thus, a librarian's role is to share and provide information to all who seek it.
Our blog has spotlighted a number of librarian leaders over the past year, each of whom have made strides in bridging the gap between librarians and academics, and confirmed their value by getting involved in topics such as the reproducibility crisis, digital literacy, and research best practices. So as the year comes to a close, here are the spotlight librarian initiatives of 2019.
Librarian Initiatives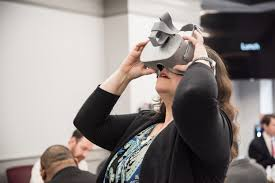 Dorothy Ogdon, an emerging technologies librarian at the University of Alabama has led the development of a virtual reality studio and 3D printing space in the campus' Health Sciences Library. She is planning an introductory workshop to provide instruction and enable users to explore new applications in their areas of expertise, without having to leave campus. Ogden believes that AR, VR, and 3D printing tools will help create efficiency in the data storage, management, and retrieval processes.
At New England University, librarian Cadence Atchinson is passionate about reaching geographically distant students. In order to be a resource to those students, she created an online-based community for science undergrads and postgrads to share relevant links to laboratory guides and 24/7 remote access to the resources needed for assignments, reports, and research projects. She and her colleagues have created and now maintain 33 library guides.
Liz Grace works at the University of Rochester. There, students and departments have a 'personal' librarian over the course of their education in order to cultivate a reliable and familiar relationship in the library. A data management plan, which outlines both physical and digital data and how it should be handled, is available to students as well as faculty and researchers. Grace and her colleagues are extending the content on their Data Management Libguide beyond text by creating their own video content designed to give viewers short refreshers.
Advice from the Librarians
By providing and updating resources to the communities they serve, these librarians have affirmed their value to anyone who might have questioned it. Here are their top 5 recommendations to maximize your library's contribution:
Make connections with your community in order to know their needs.
Apply for research funding to build the best research environment you can imagine, as increased digitization threatens library budget and space.
Expand your role by connecting with faculty, attending university research activities, and administrative and academic meetings.
Offer 24/7 resources designed for easy remote access to support independent learning.
Always be on the lookout for new ways to link patrons to your services.
Lasty, bring JoVE visibility to your administrators. Fox says "we all get excited...that it shows students there is scholarly, trustworthy information in video form. It gets them to think outside the box in terms of research, to realize that there are other materials out there that are credible that aren't the traditional journal article."