Over the past two decades, Australia and New Zealand have been driving great new scientific research. There are tangible results: Australia's thriving biotech sector is ranked number five globally. And in recent years, the New Zealand biology and horticulture researcher community demonstrated its prowess by saving the kiwifruit from Psa, a bacterial disease.

Because of these countries' commitment to research and learning, their scientists and teachers turn to JoVE for video content to enable lab and classroom success. Many researchers, academics, and students in both countries watch JoVE's peer-reviewed articles and Science Education videos. In 2018 there were 98,588 viewers from the nation of Australia, and 13,336 from New Zealand. If they were a single country, nationally, they'd be number twelve in terms of viewer volume.

Staying Competitive in Science
JoVE entered the region in 2011, and now has 27 subscribers in its subscriber roster, including educational institutions of various sizes and research concentrations, as well as private organizations. Some of the top JoVE subscribers include: University of New South Wales, University of Melbourne, University of Sydney, and University of Auckland.
Others, including Victoria University at Wellington in New Zealand, and Australia's Macquarie University and University of Newcastle, have Unlimited subscription licenses — giving them access to all of JoVE's content as it is published, for no extra charge.
Australian and New Zealand scientists don't just watch JoVE — they also publish great research in it. There are already more than 460 articles from these researchers across a variety of subjects, including behavior, biochemistry, cancer research, engineering, immunology, medicine, and more.
Here are a few of the more popular JoVE articles from regional innovators:
Boosting Research in Australia/New Zealand
It's no wonder JoVE has successfully attracted the scientific communities in these countries: it delivers real results in classrooms and laboratories. The videos improve research and teaching — for example, Dr. Morven A. Cameron of Western Sydney University uses JoVE when training new lab students, demonstrating new techniques without using reagents or animals.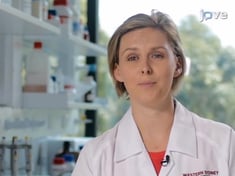 She says: "The students find JoVE is really useful, which means I can show a technique once and then they can go and watch it over and over, which is what you have to do for a lot of biological experiments."

Cameron's own research has benefitted, as well: "Before I had access to JoVE, I found it hard to replicate experiments from written papers. I didn't always have someone to show me how to do experiments, and JoVE really helped with that." She also notes: "I think it's important to have JoVE in the lab so that students and postdocs can practice techniques and compare them to other people in the field."

Cameron herself published a JoVE neuroscience article: Prolonged Incubation of Acute Neuronal Tissue for Electrophysiology and Calcium-imaging.

In Great Company
A JoVE subscription puts your institution in the best STEM research and teaching company worldwide. JoVE counts nearly 6 million scientists and students as annual users, and about 1,000 academic institutions as subscribers. These organizations — of all different sizes and types — access the same high-quality scientific content.

JoVE is proud to help drive innovation in New Zealand and Australia, and in colleges and corporations — anywhere researchers and teachers want to change how science is done.