This week, we celebrate National Library Week. The theme is libraries = strong communities. I think about this theme, while I'm wearing two hats — one as a mom, and one as a JoVE senior account manager.Some of my happiest and earliest memories with my two kids involve story time at our local library. When my two were little, we'd plan our week around story time. During the event, the children's librarian would encourage caregivers to sing songs and read stories. The story part I could handle — but singing was outside my comfort zone.
What the children's librarian taught me in those early mommy-and-me days was that Matthew (my oldest) didn't care if I couldn't carry a tune. He just wanted to hear my voice. It made the little lightbulbs inside his head go off — whether I was reading a book or singing a song.
Nearly 10 years later, Matthew still wants me to sing him a song before bed! The seeds for these special moments were planted during our local library's story time when he was just weeks old.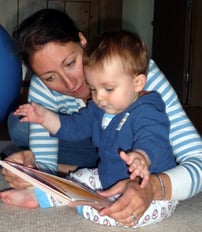 Library Offers Resources to Growing Kids
As my kids grew older, our local library was the place we'd kick off the school week, with quiet time for homework. Once homework was complete, Matthew and Emma (my daughter) would independently use their library cards to check out books or get a "toy pack" to play with.
It doesn't seem like that big of a deal now, but at the time it was a chance for them to be more independent and responsible. Our library also had a special four-legged visitor who would come regularly. Our children were encouraged to sign up and read a story aloud, which was helpful in developing their confidence during what for them were important early-reading days. This was so exciting and a big confidence booster!
Partnering With Libraries
Now, when I think of the word "library," most of the time I'm thinking about MY libraries. Those are the libraries I work to partner with each day. I've been with JoVE now for nearly seven years. During that time, I have seen many changes as our company has grown in headcount and in the amount of content it offers.
As we at JoVE continue in our second decade with libraries, I can see several areas where our partnerships can become stronger. We'll also bring more value to our users. This is near and dear to my heart, so in honor of National Library Week, I'd like to take a moment to share some of the highlights of what we've done, and what's to come this year ...
JoVE: Partnering with Libraries in 2019 and Beyond
Improving scientific research/education:
More value: JoVE increased its productivity, so that it publishes 50 percent more articles monthly
We have more studies that demonstrate JoVE's impact on learning and lab productivity
Introducing new materials regularly:
JoVE has released (or is about to release) a number of innovative active-learning tools, including:
Lab Manual: a comprehensive video lab manual for Biology I & II courses
JoVE Core: A video textbook scheduled for release later this year
Both are included in Unlimited packages and can be a supplement or comprehensive replacement to existing text-based resources.
Mapping videos to course curricula and research workflows
We are doing more to help libraries make the most of their current JoVE subscriptions. For instance, the JoVE Customer Success Team offers curriculum specialists who can:
Help interested faculty members integrate relevant videos into their learning management systems
Build out customized lab pages for researchers
Provide support centers for teaching excellence and student learning/tutoring centers
My goal is to strengthen these partnerships each day, with the continued collaboration of our libraries. We want to hear from YOU about ways we can bring more value to your library and your JoVE subscription. Please share your ideas and feedback with your account manager, or email us here.