Summary
Researchers at Stanford University were able to learn a crucial injection technique via a JoVE video article — instead of bringing in an outside teaching expert — saving lab research time and money.
Challenge
Dr. Michele Calos is a Stanford University genetics professor, focusing on the creation and use of new systems involving chromosomes and plasmids. While researching muscular dystrophy, her lab staff needed to learn a technique for the intra-arterial injection of stem cells in mice. One way to adopt the protocol was to fly a European expert to Stanford to conduct in-person teaching. However, when considering this, staff members decided they needed a less expensive learning method — one that wouldn't slow down research.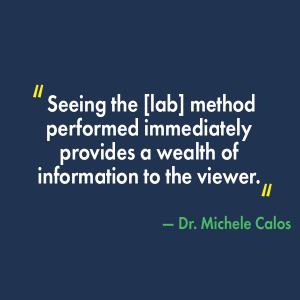 For instance, text-only learning materials present challenges in teaching lab protocols. "Methods are complex and can only partially be described in words," as Dr. Calos explains.
Solution
Fortunately, JoVE had already published a peer-reviewed video article that demonstrated the exact protocol the lab needed. The authors were members of a group at the University College of London, led by Dr. Francesco Saverio Tedesco. (His research focuses on muscle regeneration using in vitro and in vivo muscle disorder models.)
"Seeing the method performed immediately provides a wealth of information to the viewer," as Dr. Calos notes. "This information conveys a realistic idea of how the method is done, what is needed to do it, and helps the viewer analyze how they should proceed."
On discovering the JoVE article, Dr. Calos' researchers also found a Stanford-based collaborator who could use it to help them implement the injection method in their own lab.
Results
By using an internal collaborator and the JoVE video, Dr. Calos' lab advanced research by an estimated six months.